We will be closed Monday, May 28, 2018 for Memorial Day. Also expect shipping delays since UPS and the US Postal Service are also closed during the holiday.
We Make Custom Buttons For You
Possible to get your buttons tomorrow
Overnight and Same Day shipping is available
500 buttons or less ships the day after you pay
Pay nothing until you see how your buttons look
We ship worldwide
Printed in the USA
Resellers and Dropshippers welcome
Sizes we make: 1" - 1.25" - 1.5" - 2.25" - 3"
Order online or by phone (585-267-7670)
Quick Price and Turnaround
It is FREE to Design Your Buttons
---
Get to Know Wacky Buttons
You May Also Be Interested In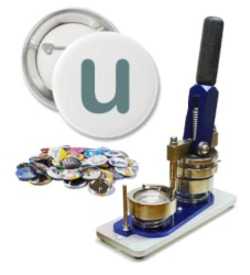 Looking for a Button Machine?
Learn how to make your own buttons. All you need is paper. The rest of the supplies, machines, and button parts can be found here:
www.umakebuttons.com
---
+1 585-267-7670
Call M-F 9-5 E.S.T.