Wacky Yet Professional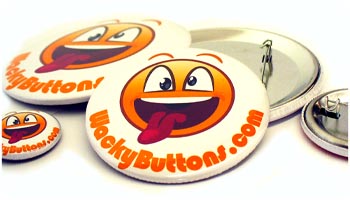 When people first hear the name Wacky Buttons they probably do not expect such a high professional level of service. We have evolved quite a bit since our company first opened back in 2003. Now Wacky Buttons carries a reputation for relieving the pressure and anxiety involved when it comes to trusting a company to manufacture a quality product in the shortest time possible. Everyday we see people who have weddings, business conferences, trade shows, you name it, happening tomorrow and they just realized buttons would be the perfect thing to hand out. We made it possible that if you order by noon today (by phone), you can receive your buttons in hand by noon tomorrow (as long as you get overnight shipping). Also Rush processing is standard at Wacky Buttons and does not cost extra. You can count on ordering 500 buttons or less and having them ship the very next business day after you order. Not only can you get your buttons really fast, but we help with everything along the way to make the whole experience as easy and stress free as possible. We have a dedicated staff answering phones, emails and online chats, from 9-5 m-f to help our customers design their buttons free of charge. You can design the buttons yourself on our website or just tell us what you want on your button by phone or email and a professional artist will design your button for you. There are no setup charges or graphic design service fees. We want you to make sure you absolutely love how your buttons will look before you spend any money on us.
What We Are Known For
No strings attached ordering. You design your buttons first then pay on your convenience. Our order process is a little different than other companies who have you submit your artwork and make you pay for your whole order at the same time. At Wacky Buttons you can create as many button designs you want for FREE and then decide later what you want to buy.
We offer the fastest turnaround time. If we are not the fastest button company, we are within the top 5 fastest. It is possible for us to ship an order the same day we receive it. We also offer UPS Next Day Air and USPS Express Shipping, So you are even able to receive an order the very next business day from when you purchase (usually valid for orders of 1000 buttons or less and you should call us to order by phone if you need it that fast).
All buttons are photo inkjet printed at 1200-4800 dpi with Epson printers and ink. We have had graphic professionals tell us they prefer our print quality to even expensive digital offset printing.
Our prices are much lower than our competitors. Most printing companies will charge for artwork and will sell at more than $50 just for 100 buttons.
Our prices are easy to understand. You pay for the cost of the buttons and shipping, nothing else. A lot of our competitors charge for artwork setup and rush processing which can add up. We do not charge for either.
We offer the option of doing artwork for you FREE of charge and we can send you different designs to choose from. Our artists are able to work with you personally until you are ready to order.
Our online design studio lets you design and order quickly. Maybe you do not have time to talk to an artist. It allows you to design on your convenience. You could design your buttons online in the middle of the night, pay online, and then your order ships out the following morning (for 500 buttons or less).
We have no minimum or any quantity restriction. You can order 1 button. You can order 576 buttons. Get any number of buttons you want.
Wacky Buttons has Immediate and informative customer service. We are here to answer the phone from 9:00 AM - 5:00 PM, Monday - Friday, Eastern Standard Time. Emails are responded to within a couple hours while we are open. If we are closed, you will be contacted the very next business day.
One of the coolest things we do is send you a realistic preview of your button design via email. This mock up we send you prior to ordering, provides a really good idea of how your actual buttons will look.
Our Design Code process is the easiest to use so no orders get messed up. Also your artwork is kept on file so you will never be asked to send your design again. Wacky Buttons allows you to order with your Design Code any time in the future.
Credit Card payments are transacted in the most secure manner on the web using Paypal.com's military encryption technology. You also never reveal your financial information to us if you order online. So your credit card information is not stored. If you order by phone we do not keep your card on file.
We either ship you the exact number of buttons or a little more than what you order. We machine count your buttons and also check the quantities using a really sensitive counting scale.
All button components are made in the USA.
History
We have been in business now for almost 20 years, so we have a little history.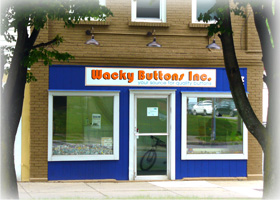 Wacky Buttons on West Commercial St.
2003 - Wacky Buttons is born. The adventure starts out in a college dorm room in Buffalo, NY with the simple idea of selling funny and outragous buttons to mostly college students. The owners of the company at the time were in a rock band trying to promote themselves and they sold buttons to raise money and create awareness of the band they were in. It was not meant to be a serious business at the time.
2005 - Wacky Buttons moves to an apartment basement in Buffalo, NY. The first online interactive design studio is launched and the company also invents its own semi-automatic button machine for making buttons faster. Both the original online design studio and button making machine invented that year are no longer used and have been since upgraded.
2007 - Wacky Buttons gets incorporated and moves to Fairport, NY. The company rebrands itself and the website gets a make over. Wacky Buttons still operated out of larger apartment basement at that time.
2009 - Wacky Buttons moves to a small store front on West Commercial Street in the lovely small town of East Rochester, NY. The small button factory was neighbors to several small local businesses, a barbershop, pizza place, 2 auto repair shops, music store, tattoo parlor, dog rescue and a youth activity center. People definitely found it interesting to walk down the main street of a small town and see a button factory. The store front looked like the local candy store of East Rochester.
2011 - Wacky Buttons moves to a shared industrial warehouse facility. The new location allowed the company to grow even more and become more efficient.
2014 - Wacky Buttons moves again but not very far at all. We actually just moved into a larger warehouse space within the same facility. With more than 10 employees now we needed a little more space.