With life slowly getting back to something which resembles normal, it's understandable that many are planning on celebrating the holidays with friends and loved ones for the first time in almost two years.  And as most will surely agree, there's no such thing as too much when it comes to spreading the holiday cheer!  If you're looking for a clever way to add a little extra joy and originality to your upcoming holiday gathering, pinback buttons are a fun and affordable way to do so.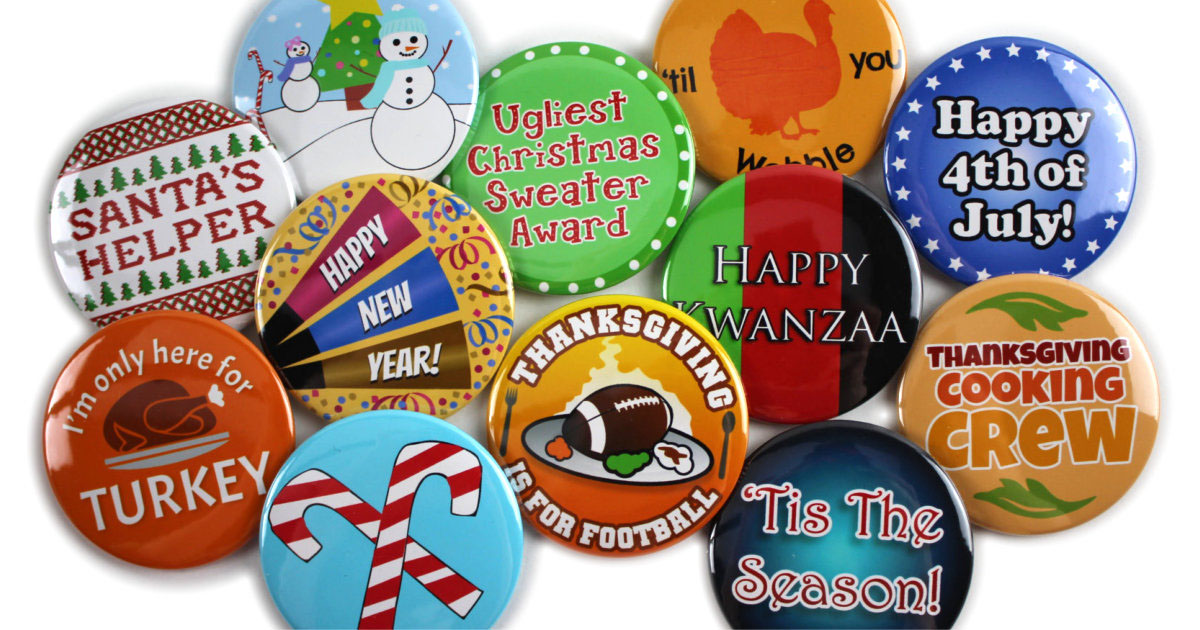 As one of the industry's leading makers of high-quality buttons and promotional products, Wacky Button is thrilled to offer one of the most comprehensive collections of holiday buttons for people of every age, faith and background.  Here are just a few of our most popular, be sure to view them all to find the buttons perfect for your holiday festivities.
Over 100 Christmas buttons in a wide range of themes and designs
Hanukkah buttons perfect for family parties and group celebrations
Thanksgiving buttons to add extra fun to holiday dinners and gatherings
A great selection of New Year's buttons to help liven up your NYE party
Have an idea for a custom holiday button? Design your own custom buttons!
Browse our online button store to find the perfect buttons for your festivities
With everything that we've all been through over the past two years, it's safe to assume that we could all use a little extra joy and laughter in our lives.  Holiday buttons are one of the easiest, exciting and most affordable ways to add cheer to your winter celebrations and events, and Wacky Buttons makes it easy to order online or create your own design.  We offer fast, affordable shipping with no minimums, and many orders ship out the same day!
Wacky Buttons is based in Rochester, NY and makes everything in-house at our design studio. 
For additional information or questions on ordering, get in touch by calling 585-267-7670 or reach out via email through our contact page.