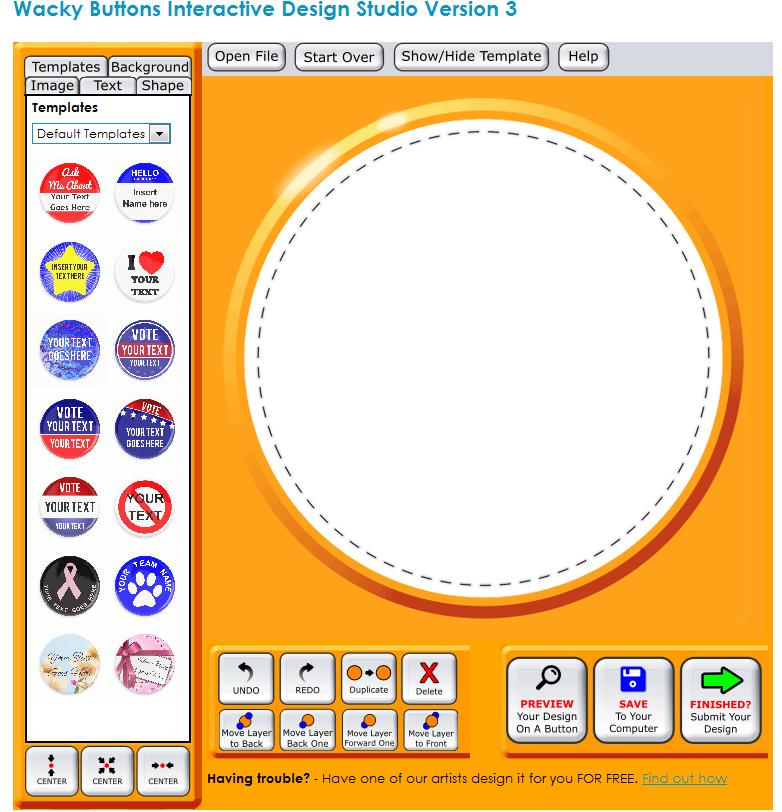 We have released our Wacky Buttons Interactive Studio Version 3.0!

What's new since our version 2.0:

-Upgraded to HTML 5.0 which means you no longer need the Java plugin to create your designs
-Works with more platforms including Windows/Mac/Android/Iphone/Ipod/Ipad
-Completely new set of pre-made templates to work from
-New shape objects
-Grouped selections
-Added Horizontal and vertical centering buttons
-Added image FX (Transparency, Remove whitespace, Greyscale, Sepia tone, Invert Colors)
-Added Transparency, Outline, and Shadow effects on Text and Shape objects

Our new Wacky Buttons Interactive Studio Version 3.0 allows you to create button designs without approval so that you can order them instantly after submitting to us.

As always, we hope that you enjoy using our new software, but if you find yourself having difficulty with the studio, try checking out our video help page to see how to create your designs easily.

If you find that you'd rather describe your design to us, we can help you create your design for FREE by filling out a "Let Us Design Your Buttons" request form. It's that easy!