Regardless of which holiday you celebrate or how you choose to go about enjoying the festivities, buttons are a wonderful way to add a little extra joy to your gathering.  Pinback buttons are incredibly affordable, available in thousands of styles, and perfect for passing out to guests as a reminder of your yearly gathering.  At Wacky Buttons, we offer an extensive collection of buttons that are perfect for guests of all ages and every type of holiday gathering!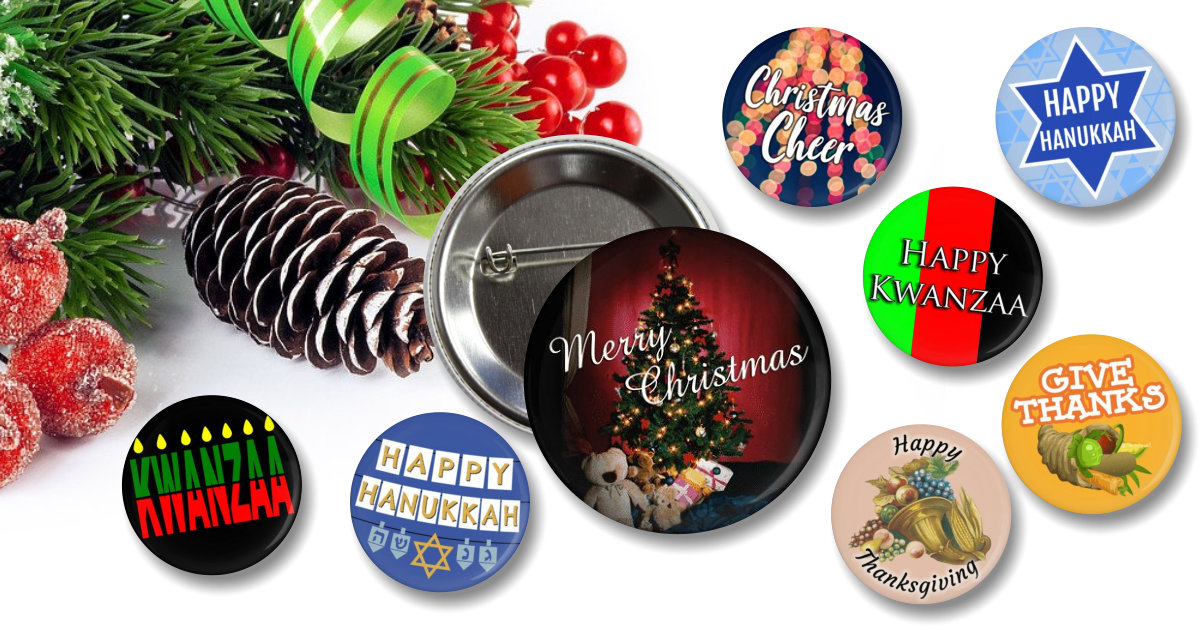 From Christmas and Hanukkah, to Thanksgiving, New Year's Eve and everything in-between, you won't find a more comprehensive selection of stylish buttons, magnets and other fun promotional items to help celebrate the holidays this year.  Here's just a sampling of our most popular!
Christmas buttons, magnets and promotional items
Thanksgiving buttons perfect for sharing with the family
Hanukkah buttons for the kids, parents and all of your guests
New Year's buttons in a wide array of themes and design styles
Kwanza buttons with symbolic meanings and stylish designs
Create your own custom holiday buttons online in just minutes!
At Wacky Buttons, we love the holidays just as much as you do, and we go to great lengths to make ordering our products as simple as possible. There are no minimum orders, we ship many orders the same day, and if you're creating your own buttons on our website, there are no fees for expert assistance from our staff of professional graphic designers.
Wacky Buttons is located in Rochester, NY and serves customers locally, throughout the United States and internationally.  For additional information on any of our products or services, get in touch by phone at 585-267-7670 or write to us via email by visiting our website's contact page.