Whether you're hosting an annual Halloween party, heading out to the local haunted house, or just looking for a fun new way to add a little spooky flare to your neighborhood trick or treating festivities, Halloween buttons are one of the most cost-effective and eye-catching ways to enhance any costume.  And here at Wacky Buttons, we hold nothing back when it comes to offering the most extensive selection of Halloween buttons online!  Browse our entire collection or create your own on our website!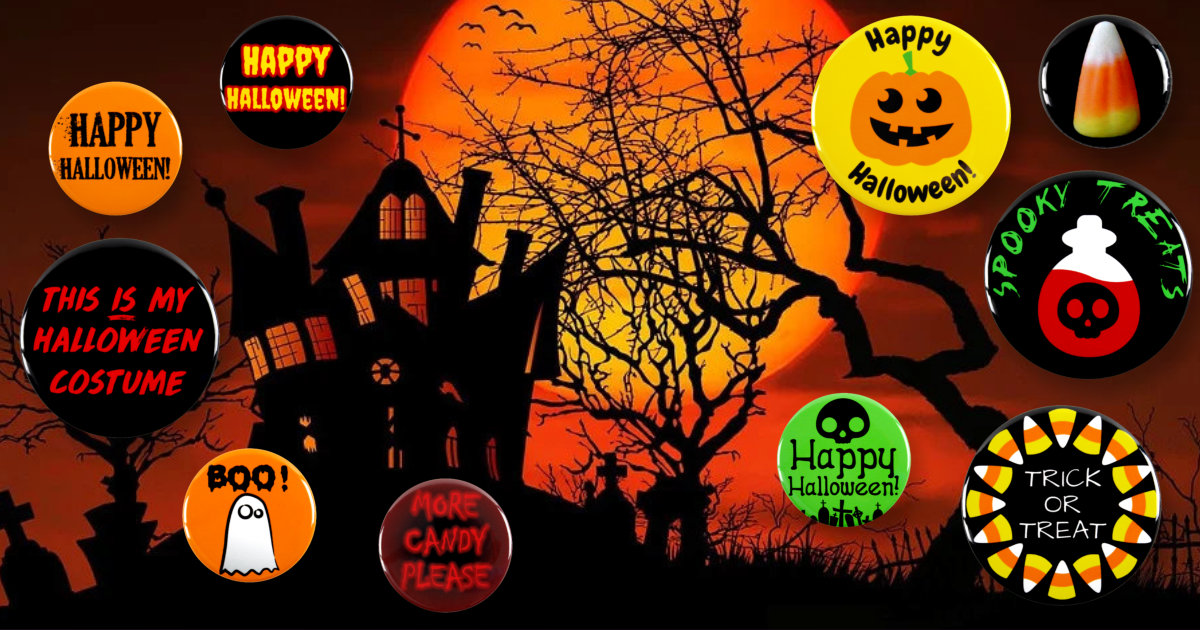 Regardless of your age, costume theme or desired fright level, pinback Halloween buttons are a fantastic way to get the most from this year's Halloween activities.  Here are some of our most popular designs, and a few reasons why Halloween enthusiasts love our selection of buttons, magnets and other promotional items!
A huge selection of spooky Halloween buttons suitable for kids of all ages
Dozens of Halloween buttons perfect for parties and trick or treating
Funny Halloween buttons to help spark up interesting conversations
Choose from buttons with pumpkins, ghosts, witches, goblins and black cats
We offer quality pinback buttons, lighted buttons, clips, mirrors and others
Halloween buttons can be ordered in a variety of sizes, shapes and designs
We've put a tremendous amount of work into our collection of hilarious Halloween buttons, but if you can't find exactly what you're looking for, fret not.  Creating your own custom buttons is fast, easy and super affordable.  Visit our Create page to start designing your own buttons, or get in touch with our staff for free, expert assistance.  There's no charge for design, no minimum order requirements, and we ship most orders the very same day!
Wacky Buttons is located in Rochester, NY and serves customers locally, throughout the United States and across the globe.  For additional information on any of our products or services, get in touch by phone at 585-267-7670 or write to us via email by visiting our website's contact page.