Whether you're a campaign manager, an event organizer or an enthusiastic supporter… it's election time, and that means it's time to break out the buttons!  Of course, it goes without saying that imparting just the right message is paramount to your cause.  So whether you're looking to create the perfect custom buttons for your political campaign, or ready to browse the most expansive selection of modern and vintage political pins, you won't find a better combination of value, selection and quality than you will at Wacky Buttons!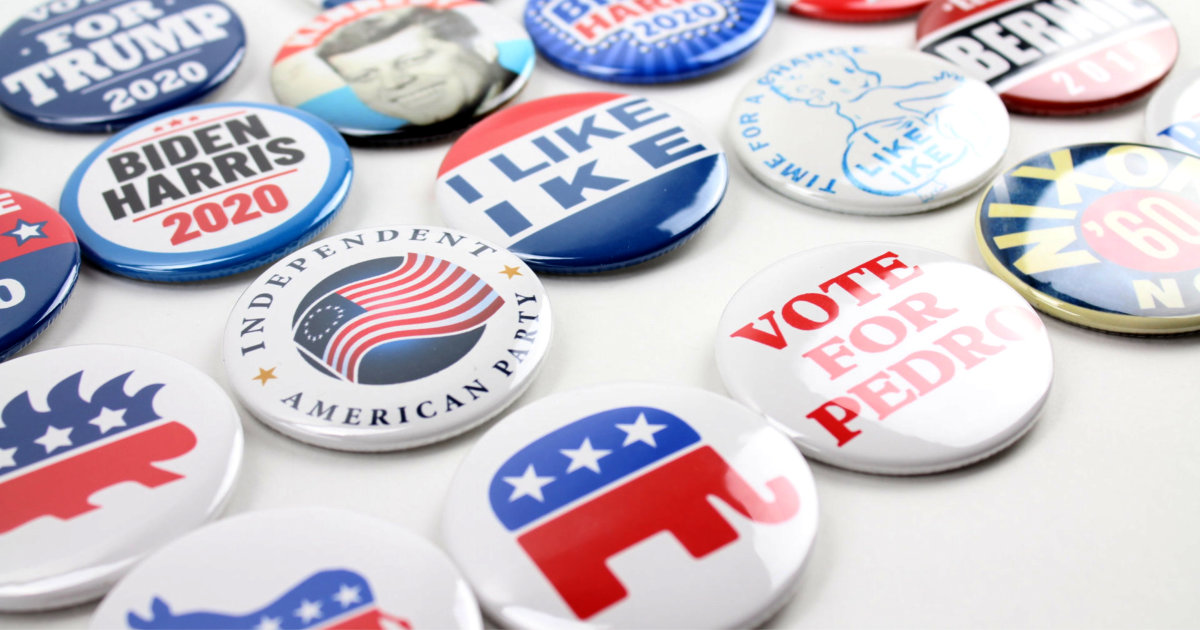 Looking for the perfect vintage or historical election pins?  No problem.  Ready to create a truly one-of-a-kind custom pin to promote your campaign?  Wacky Buttons makes it easy.  Here are just a few more reasons why so many others continue to trust our vast selection, responsive service and utmost professionalism. 
Choose from an extensive selection of funny, sarcastic and satirical

political buttons

Funny buttons are a great way to grab attention while promoting your candidate
Wacky Buttons manufactures high quality products that are durable and stylish
Need funny election buttons on a budget? We have no minimum order requirements!
Use our innovative

button design studio

to create fully customized campaign buttons
We offer fast, affordable shipping and a staff a team of dedicated support reps
Affordable, No Minimum Political Buttons
What would campaign season be without an ample supply of hilarious election buttons?  They're a staple in American history, and no other company offers a better combination of quality, value and service than Wacky Buttons.  Browse our entire selection of vintage and modern political buttons to find the design perfect for you, or get in touch with our staff for help with shipping, custom orders or other related inquiries.
We're based in Rochester NY and ship our stylish pinback buttons nationwide.  For additional details or to contact our staff, give us a call at 585-267-7670 or write to us  through our contact page.