No one needs any reminders of how tense things are right now, as millions are taking to the streets to demand change.  Whether you're an organizer, an individual or a group of concerned citizens, there's no limit to how big you can go when it comes to expressing your views.  And as so many already know, custom political and activism buttons are a fun and effective way to show your support for a wide range of causes and movements.  Here at Wacky Buttons, we share your passion and are proud to offer a huge selection of activism buttons.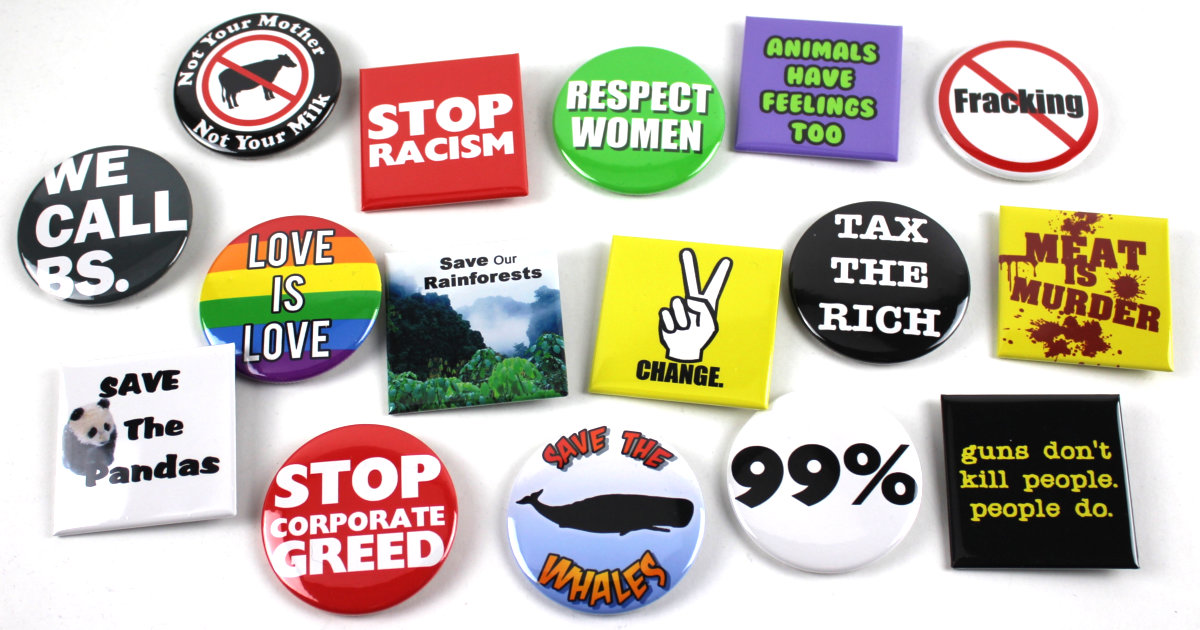 Whether you're protesting for change or looking for a way to support your political party of choice, you won't find a more extensive inventory of stock and custom pinback buttons to help showcase you commitment to creating a better world.
A massive selection of political, protest and

activism buttons

for every cause
Choose from hundreds of stock options or create your own custom buttons
We offer fast, affordable shipping and no minimum order requirements
Our buttons are made from superior quality materials for lasting durability
Use our

online button creator

to create the perfect button for your cause
Not sure where to start? Get in touch with our staff and we'll make it easy!
These are indeed some strange days we're living in, and we appreciate how passionate people are when it comes to voicing their concerns.  Regardless of where you stand or what you're protesting, you can count on the quality, value and professionalism we impart here at Wacky Buttons.  Browse our button inventory, create your own design, or get it touch with our team and let us know how we can help. 
Wacky Buttons is based in Rochester NY and proudly serves customers locally and across the country, as well as many international regions.  Questions about shipping, ordering online or creating the perfect button?  Reach out through our contact page or give us a call at 585-267-7670 and we'll be happy to assist.