Looking for a fun and effective way to let the world know that you've received your Coronavirus vaccination?  Wacky Buttons may be best known for our collectively keen senses of humor, but like you, we take the health and safety of our fellow humans very seriously.  In the spirit of promoting wellness as we gradually return to a world that resembles something normal, we're proud to offer an expansive collection of COVID-19 Coronavirus buttons to let the world know that you're doing your part.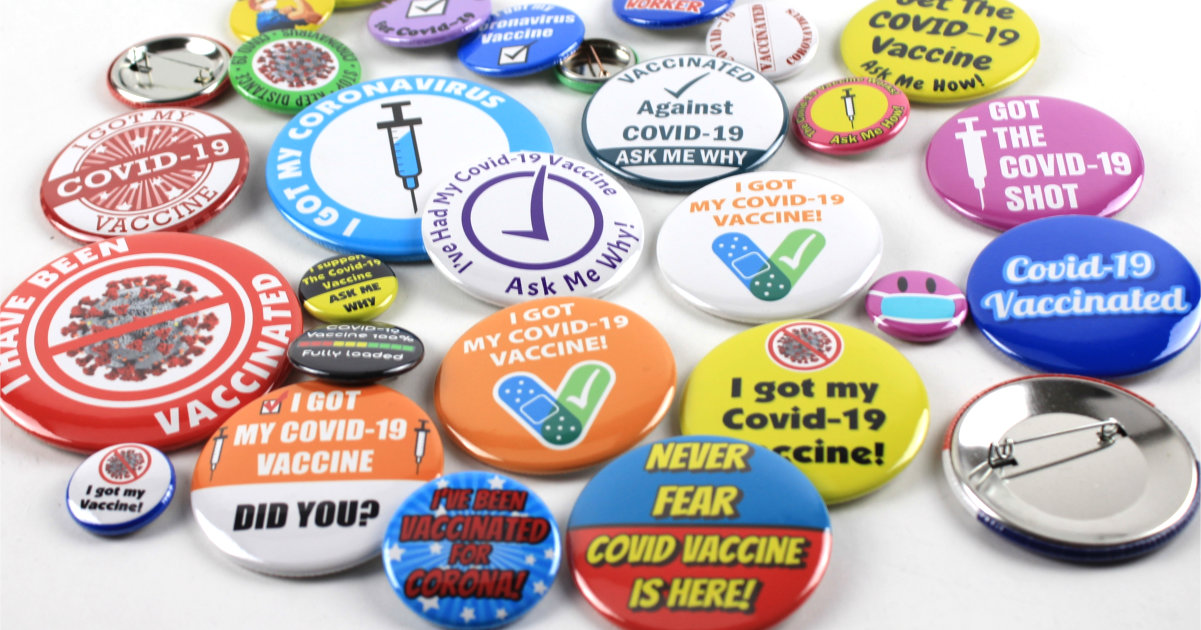 Our COVID-19 vaccination buttons are perfect for employers, families, essential workers, first responders and anyone who remains committed to helping stop the spread.  We have hundreds of designs to choose from, ranging from subtle and serious to humorous and health minded.  Browse them all and let others know where you stand!
Hundreds of Covid-19 vaccination buttons to suit every mood and mindset
Social distancing buttons to help encourage others to keep 6 feet apart
Promote optimal hygiene and the importance of masks and hand washing
Covid deniers, we have you covered too. Speak your mind while staying safe
No excessive minimum orders on any of the high-quality buttons we design
Have something unique to say? Create your own custom Covid-19 button!
It's up to all of us to help stop the spread and rid the earth of this nasty virus.  Whether you're looking to inform others of your vaccination status or simply trying to encourage others to do their part, there's nothing wacky about Wacky Buttons' collection of Coronavirus buttons.  You can see the full collection here or create your own online or over the phone with one of our friendly design staff.
Wacky Buttons is located in Rochester, NY and serves customers close to home, throughout the US and many international locations.  For more detailed information on these or any of our custom buttons, get in touch with our team by calling 585-267-7670 or write to us through the contact page on our website.