From company functions and business events, to grand openings, charity drives and day-to-day fun on the job, more and more organizations are discovering what a wonderful addition pinback buttons are for their staff, organizers and guests.  As one of the industry's most popular makers of high quality buttons, Wacky Buttons offers hundreds of designs perfect for inspiring smiles, celebrating milestones or promoting you're organization's unique message.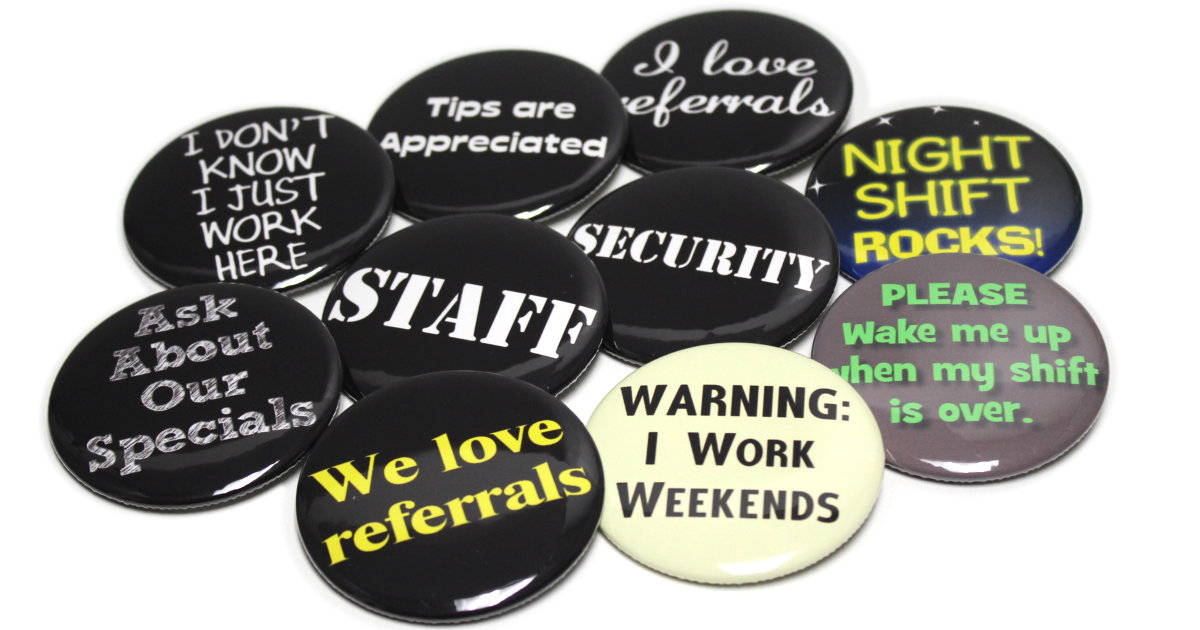 Whether you're a hospitality pro looking to supercharge your daily flare, or a professional organization seeking a unique way to showcase your team's playful side, we think you're going to love our massive selection of work-themed business buttons for staff and employees.  Here are just a few of our most popular selections!
Employment humor buttons to help keep things fun, festive and interesting
A huge selection of buttons for restaurants, bars and hospitality businesses
Retail store themed buttons perfect for special events, sales and promotions
COVID vaccination buttons to safely reassure your customers and visitors
Custom business buttons with employee names, titles, and special messages
Shop local buttons to create awareness for small businesses and local retailers
What makes Wacky Buttons the best place to order funny buttons online?  Our products are assembled in the USA, we ship super-fast, there are no minimum order requirements, and we offer free expert assistance from our team of talented graphic designers, just to name a few.  Looking to create your own custom business buttons?  No problem!  Check out our interactive button designer and see how easy it is to design and order fully customized buttons with your logo, colors, message and more!
Wacky Buttons is located in Rochester, NY and serves customers locally, throughout the United States, and all across the globe.  For additional information on any of our products or services, get in touch by phone at 585-267-7670 or drop us a line via email through our website's contact page.