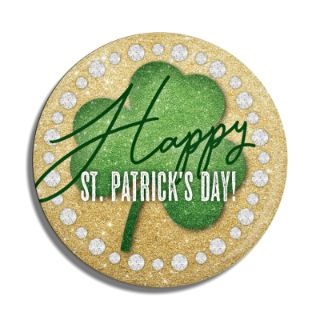 March 17th is a day that a lot of Americans circle on their calendars. A day in which they can pull the green out of their closets, add an "Mc" to the fronts of their last names, and participate in parade and pub shenanigans. As a company that lives and breathes buttons, St. Patrick's Day provides some great ones to pin on. "Kiss Me I'm Irish", "Irish For The Day", "Shamrock 'N Roll" etc...you've seen 'em and heck you may even own some. We love designing St. Patrick's Day buttons for our customers. Your Irish outfit really isn't complete without a good pinback button to show off. Or better yet...maybe an LED light up button (hint hint). They're really cool. Either way, don't be the one in your group that is only wearing the same t-shirt as you wore last year. Sport some buttons. You'll thank us. Check ours out HERE.  
Oh...ever wonder the real history of St. Pats? We were curious. Good read HERE.
Design your own St. Patrick's Day buttons HERE.
Design other cool St. Patrick's Day promo products HERE.
Slainte!