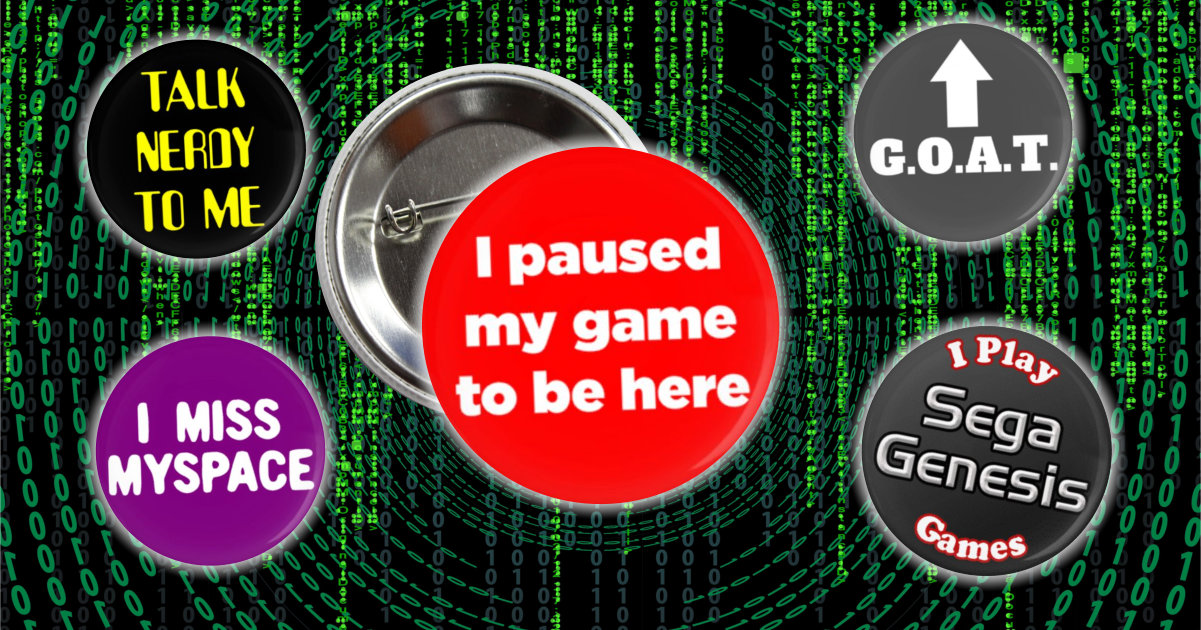 Calling all nerds, geeks, and gamers! Do you want to show off your inner fandom spirit in a fun and witty
way? Look no further than wacky buttons! These fun little pins can add a touch of personal flair to your
outfit or backpack. Here are some of our favorite geek humor buttons that are perfect for displaying
your love for all things nerdy.

I Paused My Game to Be Here
Gamers, unite! If you find yourself constantly interrupting your gaming sessions to mingle with your
non-gamer friends, this button is perfect for you. Not only does it show off your love for gaming, but it's
also a hilarious way to explain why you may not have heard the latest gossip in the office.

Talk Nerdy to Me
Are you a fan of all things geeky, from comic books to science, and everything in between? Then this
button is perfect for you! Think of it as your personal invitation for all the nerds and geeks out there to
strike up a conversation with you about your favorite topic.

I Play Sega Genesis Games
There's something about the pixelated graphics and chiptune soundtracks that takes you right back to
the good old days. If you're feeling the nerdy gamer vibe, you're not alone. Let your friends know what
you're playing. Sonic the Hedgehog? Maybe a little Mortal Kombat?

I Miss Myspace
Remember Myspace? That glorious social media platform where you could customize your page with
glittery backgrounds, your top 8 friends, and the music of your choice! Remind everyone of those golden
years by bringing back the glory of Myspace with this pin!

G.O.A.T
Are you the G.O.A.T and want to announce it to the world? Stick one of these on your backpack, jacket,
or wherever else, and watch as fellow nerds and gamers light up with recognition. Why blend in when
you can stand out with the quirkiest accessory in town? Show them who's boss!

At Wacky Buttons, we don't want you to settle for boring pins. Whether you're into tech, movies,
gaming, or just witty humor, there's a button out there for you. These geek humor buttons are just a
small sample of the many options available to you. So, go ahead and add a little personal flair to your
wardrobe or accessories, and let the world know who you really are.

Have questions or want to make your own button? Give us a call! We can help! Wacky Buttons is located
in East Rochester, NY and can be reached by calling 585-267-7670 or sending an email through our
contact form.