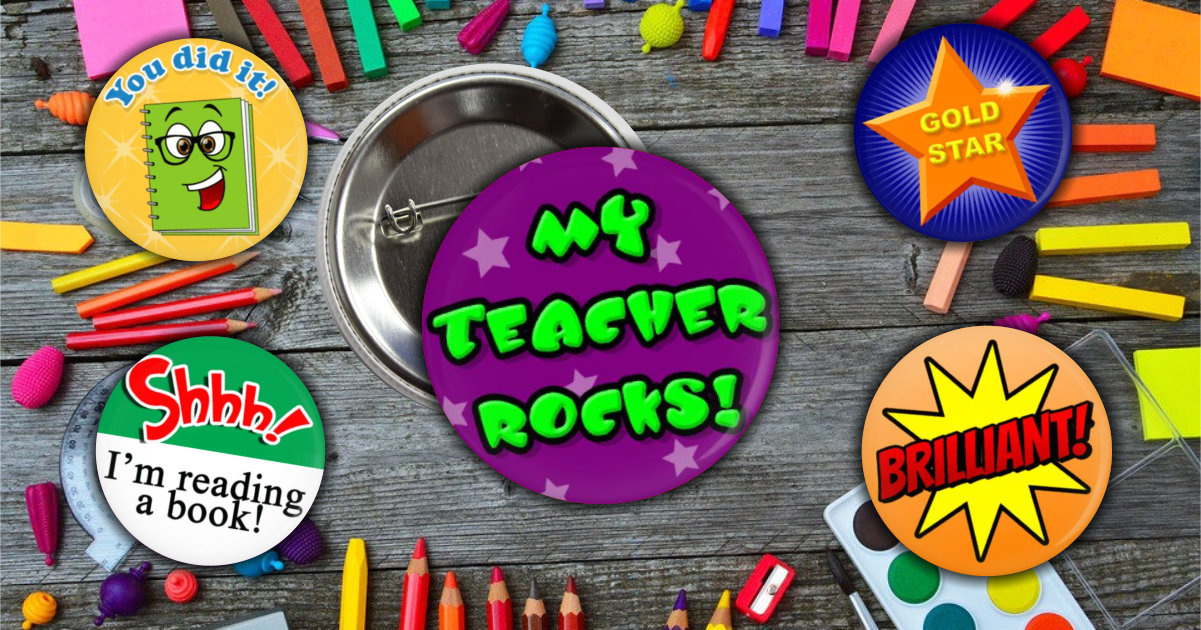 As summer comes to an end, it's time to hit the books again. It's back to school season, which means it's time to think about refreshing your school wardrobe. And what better way to do that than with some wacky buttons! These fun little accessories can add a pop of personality to any outfit, and can even show off your love for education. Here are some popular education buttons to help you stand out in the
school crowd, whether you're a teacher, support staff, or student!

For the Love of Science

Looking to inspire a love of science, technology, engineering, or mathematics? This adorable Smiley Atom pin can give your students that extra push. From buttons featuring science, beakers, rulers, and books, encourage your students to learn about what interests them the most and show off their passions to the world.

Books, Books, and More Books

If you're an educator who specializes in a particular subject, or a librarian who loves to share your passion for the literary world, or you're a student who loves to read, our buttons that feature fun illustrations of books can do just that. For example, you might like our Book Worm pin or a more direct message that tells people to Read a Book!

Positive Classroom Culture Buttons

Creating a positive classroom culture is key to promoting an inclusive and educational environment. Positive buttons can do just that – send the message that all students are valued and supported while also promoting a growth mindset. Some examples of positive classroom culture buttons include: Wonderful Work!, Smart Cookie, and Way to Go!

Surprise Your Teacher

Sometimes, students want to be able to honor and celebrate their favorite teacher. After all, they do make a positive impact on their lives. Honor your teacher with our Best Teacher Ever button or World's Best Teacher pin. It'll be sure to brighten their day and let them know how much they mean to you.

Create Custom Buttons

Looking for a personalized approach to education buttons? At Wacky Buttons, you can design and customize your own button. This is a great way for educators to feature their school mascot or promote a particular event or cause. Custom buttons also provide an exciting opportunity for students to showcase their artistic and creative side.

Incorporating fun and unique buttons into a school environment is a simple yet effective way to promote school spirit and diversity while also expressing individuality and creativity. Whether you're an educator, school administrator, or student, there are numerous types of education buttons available to make your school experience more fun and dynamic.

Wacky Buttons is located in East Rochester, NY and can be reached by calling 585-267-7670 or emailing us through our secure contact form.