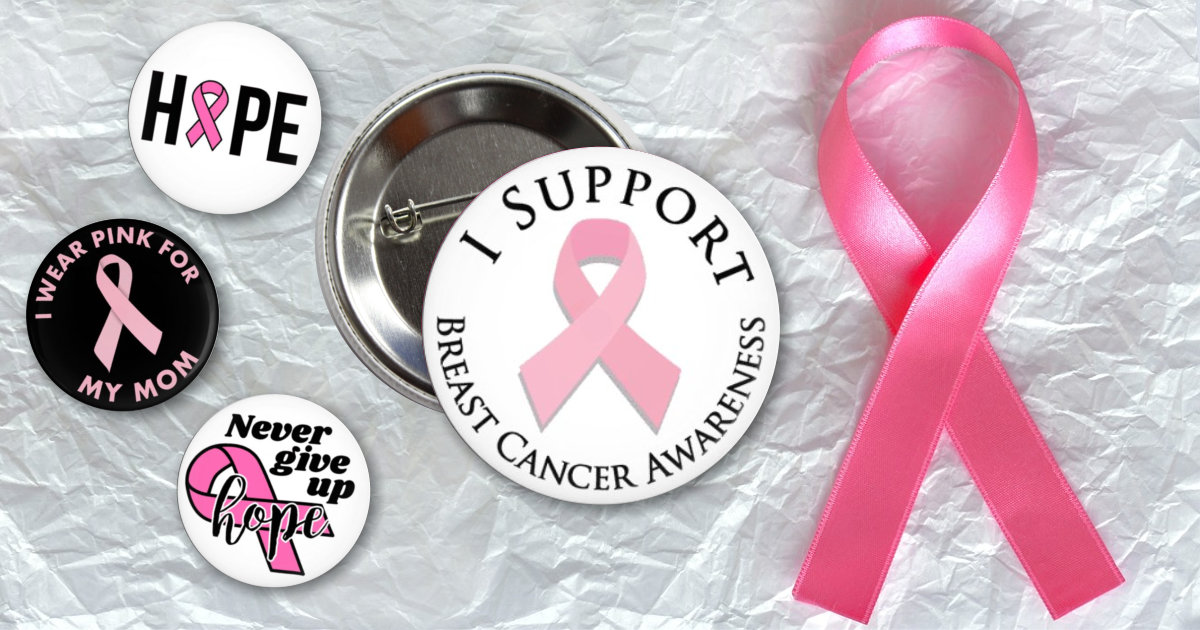 October is Breast Cancer Awareness Month. It's a time to unite, take action, and support those who have been affected. One way to show your support is with the Pink Breast Cancer Awareness Ribbon buttons from Wacky Buttons.
These buttons come in nearly 50 different designs and are perfect for charities, support groups, events, fundraisers, awareness organizations, and more. They're also available in a variety of different colors and sizes so you can find the perfect button for your Breast Cancer Awareness
efforts.
Here are some of our favorite designs.
Go Pink
Featuring the classic pink ribbon, this button has a simple yet beautiful design and is perfect for showing your support.
Your Fight is Our Fight
Let those impacted by breast cancer know that they're not alone and you've got their back with this button. It features a bold font with two signature pink ribbons. Available in a pink, white, or black background.
Never Give Up
Breast cancer is no doubt a serious battle, but this button is all about finding strength in the most challenging of times. Available in a pink or black background.
Save the Ta-Ta's
Not to make light of the situation, but sometimes a little humor is a welcome relief. And this is the perfect button for that. Available in a white or black background.
Early Detection Saves Lives
Screening early on is crucial to spotting and stopping the spread of breast cancer. This button signifies that and features the classic pink ribbon. Available in a white or black background.
You can find our full selection of Pink Breast Cancer Awareness Ribbon buttons here. Or, if you'd like to adjust a particular design, you can easily do so by sending a request to our art team to make a button all your own. Also, you can always showcase your creativity and make a
custom design with our easy-to-use online design studio.
All of our products are made from high-quality materials and printed in the US. And at Wacky Buttons, there's no minimum order so you can get as few or as many buttons as you want, and same or next-day delivery is available for most orders.
If you'd like more information, have questions, or want to make your own button, get in touch with us today! We're located in East Rochester, NY. You can reach us by phone at 585-267-7670 or through our secure online contact form.