Dad jokes are one of life's simple pleasures. Whether they're groan-worthy, hilarious, or just downright silly, there's something about a dad joke that can bring a smile to your face. And if you're looking for a way to surprise your dad for Father's Day or make him laugh to brighten his day, then custom-made buttons from Wacky Buttons are the perfect choice.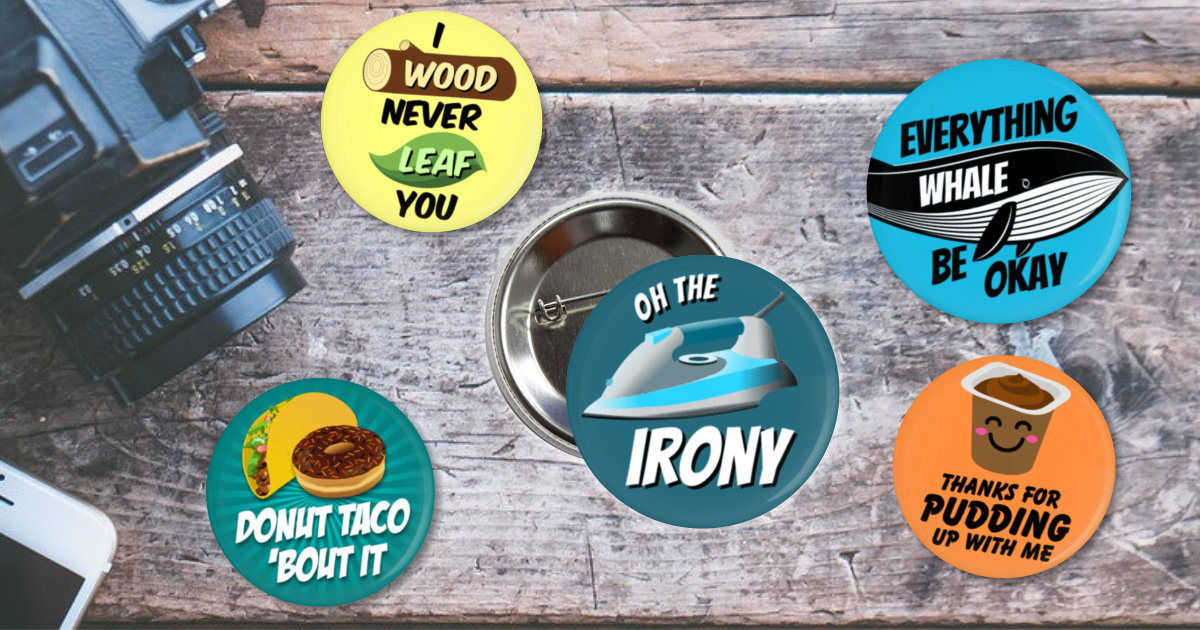 Puns Galore: Dad jokes are famous for their puns, and we have plenty of punny options to choose from. For example, you could choose a button that says "What do you call a fake noodle? An im-pasta!" with a picture of pasta noodle wearing a mustache; or
"I find you a-peeling" with, you guessed it, a picture of a banana. We also have buttons with puns related to hobbies, every-day household items, and so much more.

Jokes for Everyone: Not all dad jokes are created equal, and not all of them will work for every situation. Wacky Buttons understands this, and that's why they have a wide range of joke buttons to choose from. Whether you want a joke full of irony, or one that's silly, sarcastic, or just plain funny, there's something for everyone.

Custom-Made Buttons: If you can't find the perfect dad joke button, don't worry. We offer custom-made buttons so you can design your own with your dad's favorite joke or pun. Simply choose the size and design, upload your image or text, and we'll take care of the rest. This is a great option if you want to give your dad a unique gift that he'll love.

More Than Just Buttons: While buttons are the main focus at Wacky Buttons, we also offer other fun and quirky items like magnets and bottle openers. These items are perfect for adding a little humor to your dad's life, and you can even combine them with a funny button for a complete gift package.

Dad jokes are a timeless tradition, and with Wacky Buttons, you can bring these jokes to life. Whether you're looking for a punny button, a silly joke, or a party accessory, Wacky Buttons has something for everyone. Give your dad a gift that will make him smile and show him how much you care this Father's Day. If you have any questions, reach out to our team. We'll lend a helping hand. We can be reached by calling 585-267-7670 or emailing us through our secure contact form.