While we're known best for our extensive selection of pinback buttons, as well as our online button designer, Wacky Buttons also specializes in the creation of custom promotional products.  Wacky Print takes the fun and creativity one step further, offering even more custom printed products to help increase branding and awareness for businesses, charities, groups, clubs, bands and countless others.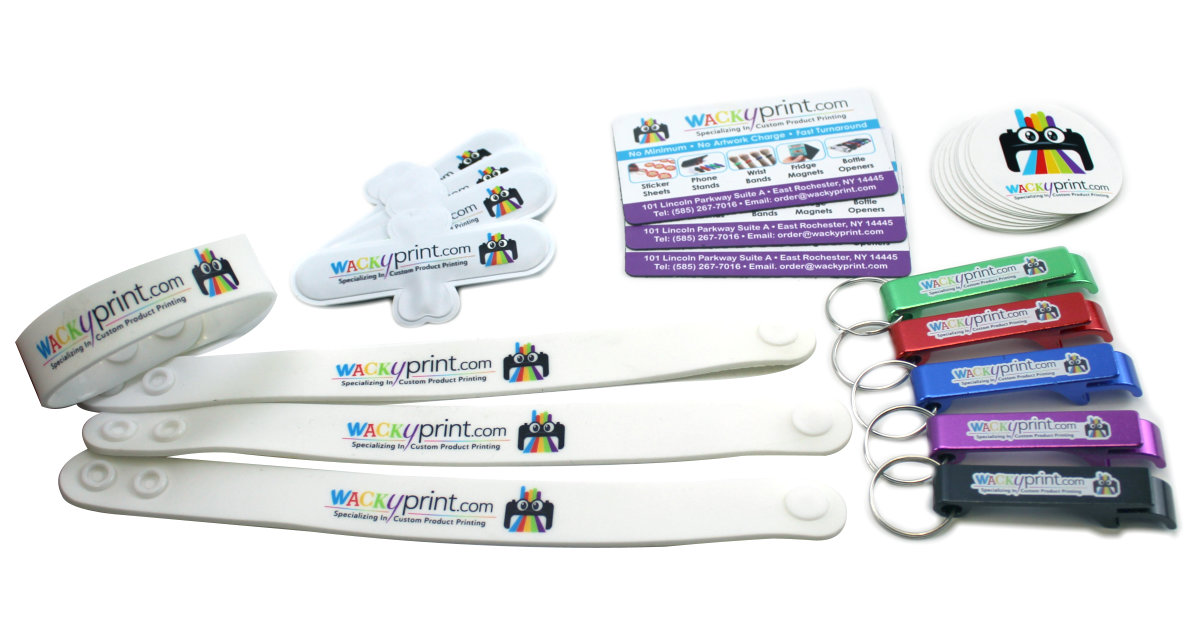 Whether you're just starting out and looking for an affordable, eye-catching way to introduce yourself to the world, or a well-established organization that's seeking a clever way to increase brand recognition or attract new customers, Wacky Print makes it easy to design and order fully-customized promotional products.  Here are just a few of our most popular!
Large floor stickers with custom graphics, logos or messages
Customized wristbands perfect for events, giveaways and staff
Custom business magnets, an effective long-term branding tool
Aluminum bottle openers for bars, outdoor events and trade shows
Custom promotional stickers in a full selection of sizes and design styles
All products are made in the USA at our Rochester, NY design studio
At Wacky Print, we go to great lengths to make ordering custom print products fast, easy and affordable.  There are no minimum order requirements, we ship incredibly fast, and offer free expert design services to ensure that your items look exactly as you've envisioned them.  Looking for something that isn't currently featured on our Products page?  Get in touch with our staff and we'll do our absolute best to help!
Wacky Print is located in Rochester, NY and serves customers locally, throughout the United States and all over the world.  For more information on any of our custom promotional products or print services, reach out by phone at 585-267-7016 or write to us via email through our website's contact page.