When it comes to spreading smiles, laughs and all around good vibes, you might be surprised at how fun and effective the right pinback buttons can be.  They're eye-catching, effective and clearly one of the most affordable ways to grab people's attention.  So whether you're hosting an event, throwing a private party or just looking to add a little humor to your day-to-day attire, funny buttons are an excellent choice for people of every age and background.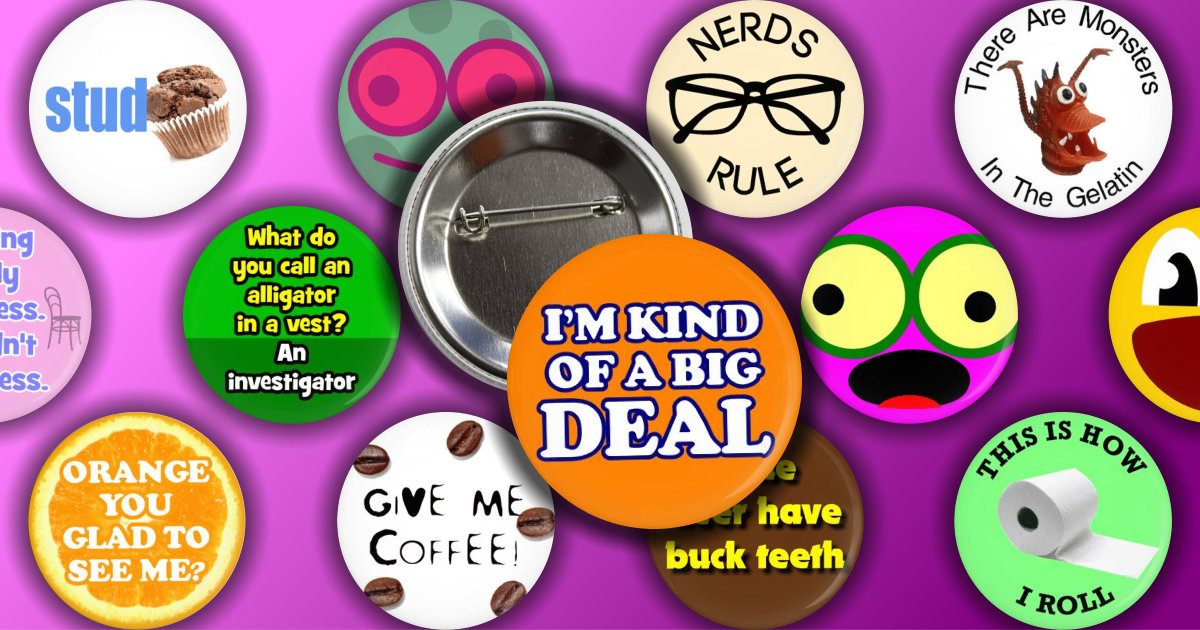 As one of the industry's leading makers of high-quality buttons and promotional products, Wacky Buttons is proud to offer a massive selection of humorous buttons perfect for just about any setting you can imagine.  Here's just a sampling of our most popular funny buttons, be sure to browse them all!
Buttons with wise sayings and thought-provoking philosophical messages
Love puns and funny sayings? We have hundreds of designs to choose from
Funny political buttons to inspire, agitate or get onlookers thinking
A huge selection of funny toilet humor buttons and witty insults
Buttons with pickup lines, perfect for wearing at the bar or social gatherings
Have an idea for your own funny button? Create it online quickly and easily!
While many businesses and organizations are no stranger to pinback buttons, they're equally fun for individuals and groups of close friends.  The Wacky Buttons staff invites you to browse our comprehensive selection of humorous buttons, or check out our online button designer to see how simple it is to create your own in just minutes.  We offer free support, there are no minimums and we ship orders incredibly fast!
Wacky Buttons is located in Rochester, NY and serves customers locally, throughout the United States and across the globe.  For additional information on any of our products or services, get in touch by phone at 585-267-7670 or write to us via email by visiting our website's contact page.